DANTE,
A student of Doug Conn and studied under Cellini and some of the greatest performers of Europe and the world.
When I think of the perfect street magic show, it's Dante's show no question. You may have seen him on the Cellini dvd.
Kozmo told Cellini that Dante was the next Cellini. One thing's for sure Dante got Cellini's grace in performance.
DANTE IS A PRO.
REALLY,REALLY,FAT HATS! IMPECCABLE MAGIC! 45MIN ACT OF PURE MAGIC THAT LEAVES YOU BUMMED OUT THAT IT'S OVER.
No one ever called him a bum because he dresses with style and holds himself with a dignity that can only be described as aristocratic.
But the guy is all street and the hoodlums know it, they don't fool with Dante.
His crowd usually begins with an edge of hot young chicks…he's a chick magnet, yeh, we all hate him. His crowds are massive in the U.S. and this was his undoing. You see he's gone indoors for now with his short cabaret act [I hear good things]. He got sick of doin the streets because he got sick of bein yelled at constantly before he even set up. It was the cops, the shops, and the other buskers.
DANTE IS STILL A LEGEND IN NEW ORLEANS.
When I was learning he took me under his wing and helped me. When I went to Europe it was his name that opened doors to the other buskers they respected him there. I'm gonna write more about him later cuz he's important.
He was the first to tell me to do a circle show and taught me a lot of tricks of the trade that literally saved my life a few times.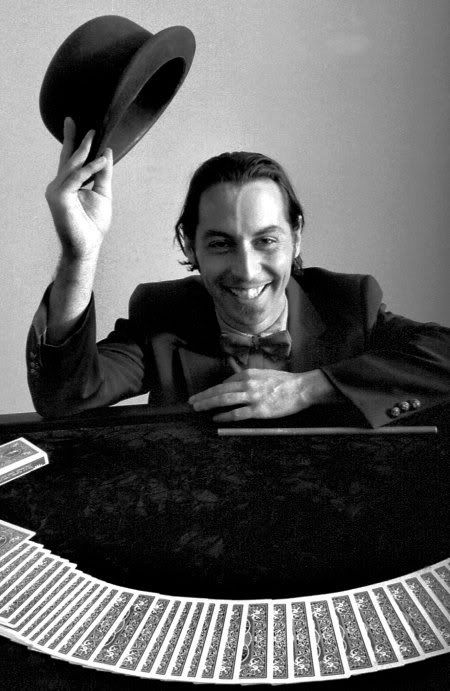 YOU WANNA LEARN SOMETHIN ABOUT IMAGE AND FULL TIME PRO CHECK OUT HIS SITE;
http://www.dantemagic.com/entertainment.html